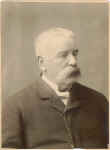 Rev. George Frederick Hardman Foxton was born in 1825 in Langham, Rutland, England, and died in 1896 in Dawsmere, Lincolnshire. He married Clara Roberts in 1858 in Anglesey, Wales. Her father was a clergyman, and the family home was at Rhiwlas, Pentreath, Anglesey, Wales.
George and Clara had nine children:-
Four of the brothers and two sisters migrated to Wyoming from Scotland.
George and Frederick in 1884

The brothers married the Richardson sisters of Lincoln, England.

Henry in 1888
John in 1889
Clara in 1893
Mary in 1906
The four brothers built the Christ Episcopal Church in Douglas, Wyoming.
George Frederick Hardman Foxton....
attended St. James College, Cambridge
matriculated in 1843, at age of 18
graduated B.A. in 1847 at St. John's, Cambridge
graduated M.A. in 1850 at St. John's, Cambridge
was ordained deacon at Worcester in 1848
was ordained as a priest at Gloucester in 1849
was Vicar on the Scottish estate of Sir William Gladstone, Prime Minister, at Fettercairn, Kincardine
was Vicar of Gedney Drove End (Dawsmere) , Lincolnshire from 1871 - 96, at his death - a position obtained for him by Sir William Gladstone
was a Freemason, and at the time of his death was Chaplain of the Alexandria Lodge, Sutton Bridge. He had also served as Provincial Grand Chaplain and Master of the Alexandra Lodge.
After his death in 1896, the window and corresponding window in the North Wall of Dawsmere Church were placed by the willing contributions of a large number of Parishioners and Masonic Friends, and inscribed to Rev. G.F.H. Foxton, M.A. vicar 1871-96.
Bereavement Notice: - From a reprint from the Long Sutton Parish Magazine, July 1896 saved by Annie Eliza Foxton
The very sudden death of Rev. G.F.H. Foxton, who was apparently in his usual health up to the moment of his seizure by a fit of heat apoplexy, has caused a great shock throughout the neighbourhood, including our own parish of Long Sutton where he was well known to many; and much sympathy is felt for his children in their bereavement.

Mr Foxton was a man who could not but be much beloved by all who knew him on account of his many very amiable qualities; and that his loss is keenly felt by his parishioners was plainly manifested at his funeral, which was attended by them in large numbers who showed every mark of sincere grief.

During the twenty-five years that he had spiritual charge over them, he ever acted the part of a true friend and kind adviser; and we understand that his preaching was always much appreciated, as were also his ministrations to the sick and suffering, in which he was invariably constant and punctual.

The Bishop's words about him on hearing of his sudden departure were undoubtedly as true as they were kind. "I always liked Mr Foxton," wrote his Lordship, "there was a refinement and humility about him which is not too common."

During his incumbency as Vicar of Gedney Drove End, three members of his family were interred in the little Churchyard at Dawsmere-his excellent wife, whom some of our readers no doubt remember, and two of his daughters, the last a little more than a year ago. Thus trouble upon trouble fell upon him in this life; and in his great love for his own, he deeply felt these losses; and now his children in their turn have to mourn the loss of him who loved them so well.

The funeral took place at Dawsmere on Monday, 15th June, the Vicar of Long Sutton officiating, and the little Church was hardly large enough to contain all who attended.

The deceased had been for many years a Freemason, and being at the time of his death and for several previous years Chaplain of the Alexandria Lodge, Sutton Bridge, as well as having served in his turn the office of Provincial Grand Chaplain, and Master of the Alexandra Lodge, it was only right that he should receive at his interment Masonic honours. Sixteen Masons therefore attended, wearing their regalia, and carrying sprigs of acacia which they dropped into the grave upon the coffin, according to the custom of their order, in token of grief for their lost brother, and pious hope for his eternal welfare.

In this hope we heartily join, and we trust also that the Almighty Soother of human grief will give his mourners strength to bear up under their bitter bereavement.