Col. Justin Fox Greenlaw Foxton MHR was born at Merri Creek Victoria on 24 Sep 1849, the son of John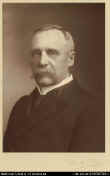 Greenlaw Foxton and Isabel Potts. He was educated at Melbourne Grammar school, which was a new school at the time.
Early Life
In 1864, he moved to Brisbane with father, and served his articles with F. Malbon Thompson of Ipswich. In 1871, he was a practising solicitor. In the early 1870's he moved to Stanthorpe where tin had recently been discovered. He set

up a legal practice in Stanthorpe as well as owning two mining leases. In 1878, he had a legal practice at Stanthorpe, Ipswich and Brisbane. His house in Lock Street, Stanthorpe, is still standing. (see left)
Family Life
He married Emily Mary Panton of Ipswich in 1874. They had six children. See here.
His sister, Edith Isabel Foxton married another Stanthorpe resident, Dr. W. L. Marley, then William Britton of Ballandean. See here.
Awards
In 1891, he was awarded the Medal of Royal Humane Society for saving a person from drowning.

In 1903, he was awarded the CMG - Companion of the Order of St Michael and St George - a decoration awarded to those who had rendered distinguished services in the colonies.

Military Life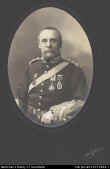 He held the rank of Colonial in Queensland Volunteer Defence Forces, and was the Commander of the Queensland Field Force. Annual Easter Encampments for the Queensland Defence Forces were held at Fort Lytton near the mouth of the Brisbane River through the 1880's and 1890's. The Queensland Forces were disbanded after Federation in 1901.

Political Life
Member Legislative Assembly for Carnarvon 1.10.1883 - 27.8.1904

Interested in humanitarian legislation - Factories and Shops Act of 1900

1898-99 representative on the Federal Council of Australasia regarding Federation

Secretary for Public Lands 6.5.1896 - 12.10.1898 and 8.4.1903 - 17.9.1903

Home Secretary 12.10.1898 - 8.4.1903.

Member House of Representatives for Brisbane (Federal) 12.12.1906 - 13.4.1910.

Represented Australia at the first Imperial Defence Colonial Conference in London 1909.
Federal Council of Australasia 1899

Back row:

Hackett (WA), Wrixon (VIC), Dobson (TAS), Foxton (QLD) Pitts, Woolard

Middle row:

Jenkins (Clerk of Council), Barlow (QLD), McIntyre (VIC), Moore (TAS), Cuthbert (VIC), Lewis (TAS), Glassey (QLD)

Front row:

Forrest (WA Premier), Dickson (QLD Premier), Turner (VIC Premier and President of Council), Braddon (TAS Premier), Douglas (TAS), Matheson (WA)
Public Life
President of Stanthorpe Agricultural Society 1885 - 1899 - founding member

Between 1886-90- Director of Metropolitan Federal Land and Building Co.

President of Australian Cricket Association

Chairman of Trustees of the Brisbane Cricket Ground

Member of the Australian Board of Control
Private Life
Tobacco grower in Texas using Chinese labour - had a nickname of "Chinese Foxton"

Owned property at "Southern Cross" Ballandean, Stanthorpe area, Queensland

Corresponded with the Foxtons in Wyoming

Lived at "Langdale", Indooroopilly, then "The Priory", Indooroopilly, then Melbourne when an MHR, then "Bulimba House", Brisbane.

He died in 1916 in Brisbane.

Source :The Brisbane Courier 24 June 1916
Source: CA Bernays, Queensland Politics During Sixty Years
Source: Who's Who 1916
Source: Liber Melburniesis 1937
From the Dictionary of Australian Biography - at http://gutenberg.net.au/dictbiog/0-dict-biogF.html#foxton1
Justin Fox Greenlaw Foxton, (1849 - 1916), politician, son of J. G. Foxton, was born at Melbourne on 24 September 1849. He was educated at the Melbourne Church of England Grammar School and privately, and went to Brisbane when he was 15. He was articled to M. Thompson, solicitor, at Ipswich and was admitted to the bar when he was 22. He practised as a solicitor at Stanthorpe, and then came to Brisbane and went into partnership with his old mentor, J. M. Thompson. In 1883 he was elected to the legislative assembly as member for Carnarvon and held this seat continuously until 1904. He was secretary for public lands in the Nelson (q.v.) and Byrnes (q.v.) ministries from May 1896 to October 1898 and home secretary from October 1898 to December 1899 in the Dickson (q.v.) ministry, and from December 1899 to April 1903 in the Philp (q.v.) ministry. He was secretary for public lands in the same ministry from April to September 1903. Defeated at the 1904 elections he entered federal politics as a member for Brisbane in the house of representatives in 1906, and was minister without portfolio in the third Deakin (q.v.) ministry from June 1909 to April 1910, when he was defeated at the general election. He died at Brisbane on 23 June 1916. He married in 1874 Emily Mary, daughter of the Hon. John Panton, who survived him with two sons and two daughters. He was created C.M.G. in 1903.
Foxton had many interests. He joined the old volunteer forces when a very young man and rose to be brigadier in command of the Queensland field force (Commonwealth military forces). He represented Australia at the Imperial conference on naval and military defence of empire in 1909, and was for some time A.D.C. to the governor-general of Australia. He was keenly interested in cricket, was president of the Queensland Cricket Association, chairman of trustees of the Brisbane cricket ground, and a member of the Australian board of control. He received the certificate of the Royal Humane Society of Australia for saving life in 1884 and its bronze medal in 1891. He showed much ability as a politician and administrator. He brought in a factories and shops act in 1896 which showed a distinct advance in humanitarian legislation, and its provisions were further extended in his factories and shops act of 1900. These acts made him justly known as the father of shop and factory legislation in Queensland.
The Brisbane Courier, 24 June 1916; C A Bernays, Queensland Politics During Sixty Years; Who's Who, 1916; Liber Melburniensis, 1937.